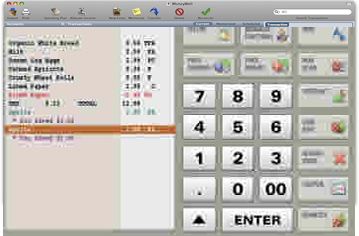 For further enquiries and pricing


Call: 08069524047, 07055055696
Email: admin@luzoma.com
View other business software packages - Click Here
Sales Pro 13.0 - Inventory and Sales Management Software
Sales Pro 13.0 is a complete Inventory and sales management software package that is both robust in its
functionality and very easy to use. This Retail outlet management suite of POS software includes both frontend
software and back office price controls, reports, book-keeping and administrative functions.
Why Sales Pro 13.0 POS Software is the best!
We have spent over 5 years perfecting our inventory and sales mangement software solution, and proudly
present you this solution today. We have all the functionalities that you need and more.

To ensure the security maintenance of Sales Pro 13.0, it is bundled with LADE (Luzoma Administrative
Enforcer) programmed to protect the security transactions of your system. Users will be asked to enter their
login name and password to confirm if they are entitled to access the system. Using LADE, Administrators can
also assign a specific module for employees to access since they are only entitled to access modules that are
related to their work.


Features
The POS Software has the following features (more features like POS Hardware can also be integrated - for a
fee, depending on your requirement specifications);
LADE - Secured Login System
Grocery Checkout
Grocery Cash Register
Back Office Features
Customer Relations
Inventory System
Electronic Features
Database Auto-Backup/Restore Module